27th Jun
Wearing of face coverings within the surgery
To many the Covid pandemic is over and as the wearing of face coverings out and about has reduced many think it is no longer necessary to wear face coverings anywhere at all. I'm afraid that isn't the case in healthcare settings such our surgery.
The simple fact is that Covid is still very active in the community and should healthcare employees, who are still testing on a regular basis, become infected with Covid they have to stay of work for up to 12 days, reducing the service available to patients, to ensure that they do not pass on the virus to the many vulnerable patients that they see whilst at work.
The latest guidelines of face coverings are, typically, rather vague and it has been left to the employers to decide how to proceed and at Guildhall, like the majority of GP surgeries, have taken the decision to maintain the wearing of face coverings (masks or visors) within the surgery. Therefore patients who have appointments, and may find themselves sitting in the waiting room with vulnerable patients close by, will still be required to wear a face covering to enter the surgery and we ask that all patients show appropriate understanding to co-operate accordingly.
Once patients are within the consulting rooms it may be that the clinician they are seeing will decide that that a face covering is not necessary during the consultation. This is at the clinicians perogative and will be based on a dynamic risk assessment that the clinician will carry out at the start of the consultation but suffice to say that any patient who is showing any possible Covid symptom or are vulnerable themselves will be required to keep their face covering on for the consultation.
We at Guildhall are no different to anyone else - we would love to see the end of face coverings! However, we know better than most that face coverings have contributed considerably to our staff avoiding Covid infection throughout the pandemic and helping us to keep the surgery open throughout (many many surgeries were closed due to outbreaks!) and we simply believe that for now it is in all of our interests to continue as we have been for what we hope will not be too much longer.
Thank you for your co-operation.
24th Feb
Covid vaccinations - Children 5-11 years of age who are extremely clinically vulnerable
We are now moving to begin vaccinations children in the 5-11 year age group who are extremely clinically vulnerable.
This will commence Saturday 26th February and continuing every weekend until further notice at both Folca (formerly Debenhams) Folkestone and Dover Health Centre, Dover.
In order for your child to be vaccinated you can walk in but will need to bring a letter from either your child's GP or Consultant confirming their eligibility for the vaccination and must be accompanied by a parent or by an appropriate adult and the childs parent available to be contacted by phone to give consent.
We also continue to offer vaccinations to 12-15yrs and adults both via walk in or a booked appointment via the National Booking System
Opening Times:
Folca (formerly Debenhams) Folkestone
Tuesdays - 8.30- 5.30
Thursdays- 8.30 - 5.30
Saturday - 8.30 - 5.30
Sunday - 8.30 - 4.15
Dover Health Centre, Dover
Saturdays - 8.30 - 5.30
Sundays - 8.30 - 5.30
4th Feb
Covid Vaccinations for Young people 12 - 15 years old
Starting Saturday 5th February until further notice
Saturdays and Sundays only from 8.30 a.m. to 5.30 p.m.
at FOLCA ( old Debenham building) - Sandgate Road, Folkestone
and Dover Health Centre - Maison Dieu Road.
Just WALK - IN or book online via the National Booking System
Please note that medically extremely vulnerable children will need a GP or Cconsultants' letter to confirm that they are eligible for vaccination
26th Jan
Updated guidance on the wearing of masks
Whilst Government guidance on the wearing of masks as protection against the spread of infection from Covid-19 in public places relaxes with effect from Thursday 27 January guidance for healthcare locations, including GP surgeries, remains exactly the same as before.
Therefore we would like to advise all visitors to the surgery that they will be required to wear a mask to gain access unless 'medically' exempt. If visitors have a particular problem with wearing a mask they may alternatively wear a visor.
Throughout the pandemic Guildhall Surgery has managed to maintain services at all times by keeping exposure to Covid-19 infection to an absolute minimum. Whilst we understand current Covid strains cause lessor illness they are more infectious and infection means our staff are off work and service to our patients is adversely affected. Therefore I am sure you will understand why our maintaining precautions is in all of our interests.
6th Jan
We can provide Social Prescibing
Do you need some advice, encouragement or help to be more active, improve your lifestyle or resolve problems affecting your health?
Guildhall Surgery no offers 'social prescribing, which means support around your non-medical needs. Involve is a local charity commisioned to provide this service and can help with:-
Talking through worries, undersdtanding your needs and setting a plan
Linking you to specialist services to help you with weight loss or fitness, tailored to you needs
Specialist mental health worker for advice and support
Support with feeling low, anxious or unmotivated
Advice and guidance to tackle problems like housing, debt and unemployment
Connecting you with others including local groups and socail networks
For further information please visit https://www.involvekent.org.uk/social-prescribing
To be referred to social prescribing you should speak with your Doctor
14th Dec 2021
Booster vaccinations - Please do not call the practice with general queries about Covid-19 vaccination.
The booster vaccination programme is now aiming to offer appointments to all adults aged 18 and over by 31 December 2021. Local vaccination teams are working to rapidly increase the availability of appointments.
The national booking system has opened for over 30s today and will open for 18-29-year-olds on Wednesday, 15 December. Some local vaccination services will also contact patients directly.

The time between your second dose and a booster must be at least three months.

You can book using the national booking service by calling 119 or at https://www.nhs.uk/conditions/coronavirus-covid-19/coronavirus-vaccination/book-coronavirus-vaccination/

The national booking service will only show clinics that have appointments available when you visit the site/call 119; but clinics regularly add more dates.
For a full list of all vaccination sites in Kent and Medway, visit https://www.kentandmedwayccg.nhs.uk/your-health/coronavirus/covid19vaccine
14th Dec 2021
IMPORTANT: Reduction in clinical capacity
During December and into early January some of our clinical staff will be deployed to support the Covid booster effort at the express request the Government.
Due to reduced clinical capacity, we may ask patients to defer some routine or non-urgent requests until the New Year, or we may redirect you to other services. If you have a clinical concern which you think is urgent, or if you need to book a nurse appointment for ongoing clinical care, please speak to us however our decision will be final.
We would like to thank you in advance for your understanding.
3rd Dec 2021
Covid Booster Vaccinations
24th Oct 2021
Folkestone Civic Centre Covid Vaccination Site moves to FOLCA – The Former Debenhams Building
The Folkestone Civic Centre Covid Vaccination Site is now closed and has moved to the FOLCA centre (the former Debenhams site).
Please can patients who have a booking from 23rd October 21 onwards please go to the FOLCA centre.
19th Oct 2021
Your Covid booster vaccinations
With our PCN colleagues we are now delivering the Covid booster vaccinations at the Civic Centre in Folkestone (this will shortly change to the old Debenhams building) and Dover Health Centre in Dover.
We would encourage all patients that have had their 1st and 2nd covid vaccinations to go ahead and get their booster vaccination as soon as they are eligible to do so. To be eligible for your booster vaccination you will be a minimum of 6 months since having had your 2nd covid vaccination at at that point you will receive a text message or letter from NHS England (not Guildhall Surgery) inviting you to book an appointment for your booster vaccination.
Please note : you cannot book your booster vaccination through us at the surgery.
To book your booster vaccination you should go online to the NHS national booking site (just put 'book my covid booster' into Google or any other search engine) which is simple to use and will give you all the options available. Alternatively call 119 where the NHS staff can make the booking on your behalf.
26th Aug 2021
Major Systems Outage
We are sorry to advise patients that there is a major network outage across South East England and we have no operational medical systems.
We are operating on fall back processes but this has limitations.
We will do all we can to get back to normal as soon as the network resumes.
In the meantime thank you for your patience.
23rd Aug 2021
Online consultations via eConsult - August Bank Holiday weekend
To help practices better meet the needs of patients who require care over the August Bank Holiday weekend our CCG have arranged that the online consultation system e-Consult will NOT be available from 18.30 on Friday 27 August 2021 until 08.00 Tuesday 31 August 2021.

If patients need urgent care, NHS 111 is there for you 24-hours-a-day. Pharmacists are experts in medicines and can help you with minor health concerns. You can find out opening hours of pharmacies near you on the NHS England website.
20th Aug 2021
Flu Vaccinations - Autumn 2021
We are busy planning for this years flu vaccination season and at the appropriate time we shall be making contact with patients to inform them how to get their vacciantion this year. We will also be providing information through this website.
This year, Flu and COVID-19 viruses have the potential to increase pressures faced by the NHS this winter, particularly if infection waves from both viruses coincide. It is therefore important that you get vaccinated if you are eligible – this includes older people, pregnant women, and those with certain underlying health conditions.
As a temporary measure this year flu vaccinations will be extended to include those from years 7 to year 11 in secondary school and all those aged 50 and over. There will be more information to follow on this due course.
We are expecting a decision very soon on whether the flu vaccination and Covid booster jab can be given together, at the same time, and we will update you accordingly once that decision is know.
16th Jul 2021
Continuation of Covid Protection Precautions
To ensure the continuing health and safety of our staff and patients we shall be following the very latest guidance from NHS England, as issued on 15 July as per the link below, which means that all current Covid protection measures in place at the surgery will continue without change including the mandatory wearing of face masks.
Infection rates have increased in recent weeks and whilst many have now been vaccinated the surgery is a place where people come when they are ill and potentially vulnerable. Our protection methods have worked well throughout the pandemic thus far and it is therefore sensible for those measures to continue.
We thank everyone for their continued support in this regard.
https://www.england.nhs.uk/2021/07/nhs-patients-staff-and-visitors-must-continue-to-wear-face-coverings-in-healthcare-settings/
1st Jul 2021
How to get your NHS COVID Pass letter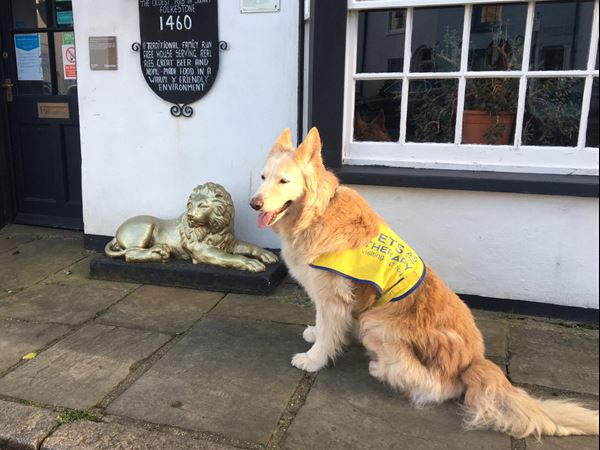 25th Jun 2021
Jasper the Friendly Therapy Dog
Recent visitors to the surgery may well have met Jasper the Therapy Dog owned by our very own Dr Chris Udenze.
Jasper has the wonderful ability to help with patients who have anxiety problems and hs been getting rave reviews. As one patient recently wrote and said "thank for you for introducing us to your therapy dog - the amazing Jasper" and "my symptoms still persist however having some time with Jasper helps with my trauma and leadin a better life".
This is just one of many positive comments about what is an alternative way of helping patients and we're delighted to be doing something just a little different to help patients.
10th Jun 2021
Data Sharing
For more information about this visit NHS Digital
UPDATE 08/06/2021 - Data Extraction has been delayed until 1st September 2021
As of 1st September 2021 your data will be shared with NHS Digital to help improve health, care and services
Patient data from GP medical records kept by GP practices in England is used every day to improve health, care and services through planning and research, helping to find better treatments and improve patient care. The NHS is introducing an improved way to share this information - called the General Practice Data for Planning and Research data collection.
NHS Digital will collect, analyse, publish and share this patient data to improve health and care services for everyone. This includes:
informing and developing health and social care policy
planning and commissioning health and care services
taking steps to protect public health (including managing and monitoring the coronavirus pandemic)
in exceptional circumstances, providing you with individual care
enabling healthcare and scientific research
Any data that NHS Digital collects will only be used for health and care purposes. It is never shared with marketing or insurance companies.
NHS Digital will not collect any patient data for patients who have already registered a Type 1 Opt-out in line with current policy. If this changes patients who have registered a Type 1 Opt-out will be informed.
If you do not want your patient data shared with NHS Digital, you can register a Type 1 Opt-out with us. You can register a Type 1 Opt-out at any time. You can also change your mind at any time and withdraw a Type 1 Opt-out.
Data sharing with NHS Digital will start on 1st September 2021 *updated 08/06/2021
If you have already registered a Type 1 Opt-out with your GP practice your data will not be shared with NHS Digital.
If you wish to register a Type 1 Opt-out with your GP practice before data sharing starts with NHS Digital, this should be done by returning this form to us as soon as possible, by *1st August 2021 to allow time for processing it. If you have previously registered a Type 1 Opt-out and you would like to withdraw this, you can also use the form to do this. You can send the form by post to us or by email to kmccg.guildhall.surgery@nhs.net
If you register a Type 1 Opt-out after your patient data has already been shared with NHS Digital, no more of your data will be shared with NHS Digital. NHS Digital will however still hold the patient data which was shared with us before you registered the Type 1 Opt-out.
If you do not want NHS Digital to share your identifiable patient data with anyone else for purposes beyond your own care, then you can also register a National Data Opt-out (also known as Type 2 Opt out).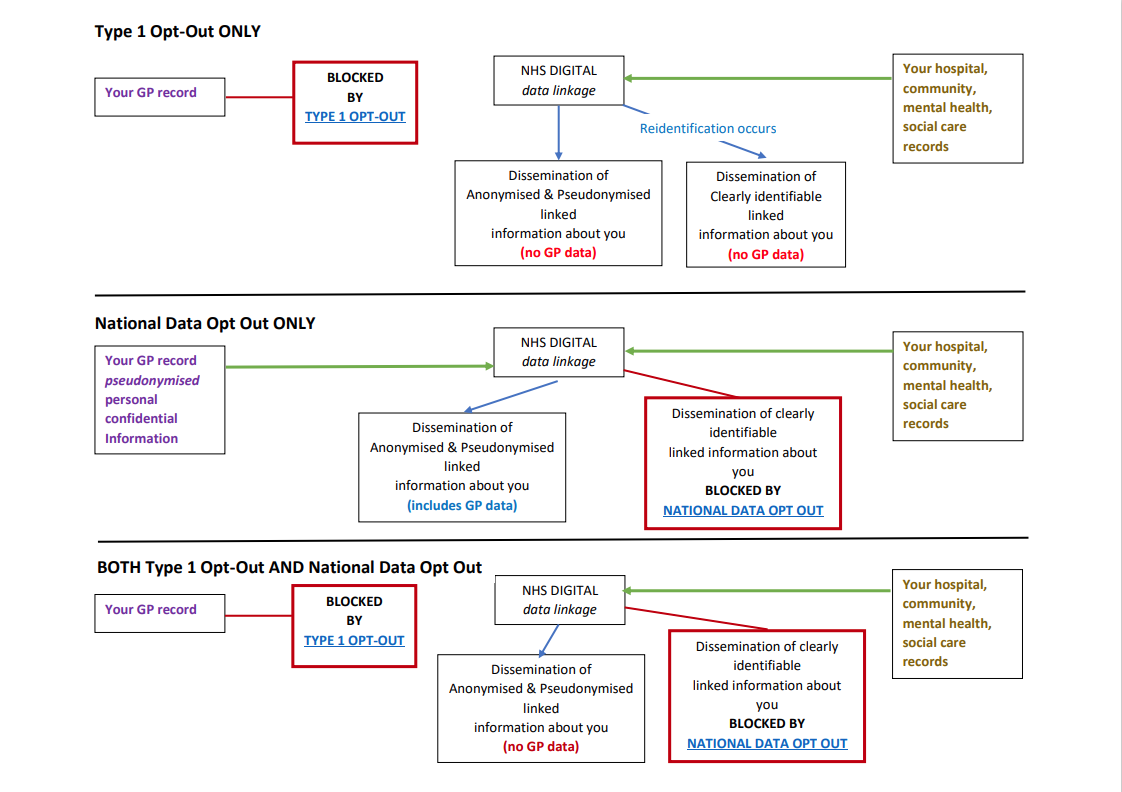 What do you need to do?
If you are happy for your data to be shared as above, and haven't previously Opt'd out - you do not need to do anything.
Type 1 OPT-OUT - to stop sharing your details with NHS digital (or to opt back in, if you have previous opt'd out)
Complete this form OPT OUT FORM (or you can also complete this to opt back in).
Then, either;
Hand the form into reception
post it to us to: Guildhall Surgery, 65-69 Guildhall Street, Folkestone, Kent. CT20 1EJ
Email it to us at kmccg.guildhall.surgery@nhs.net
Type 2 OPT-OUT (Also known as National Data Opt-out) - If you do not want NHS Digital to share your patient data with anyone else for purposes beyond your own care, which has been already shared with them (or to opt back in, if you have previous opt'd out)
NOTE: You can only do this via the following ways - as a GP practice we cannot opt you out of Type 2 (National Data Opt-out)
You need to, either;
4th Jun 2021
Sharing Medical Information with the Government
Patients may have received a text message from the NHS (not Guildhall Surgery) advising that they should 'opt out' via their GP surgery by 21st June or their medical history will be shared for reasons other than patient care.
Your health records contain a type of data called confidential patient information. This data can be used to help with research and planning. You can choose to stop your confidential patient information being used for research and planning. You can also make a choice for someone else like your children under the age of 13. NHS Digital will never sell your data. There are strict rules about how NHS can use your data. It's only shared securely and safely. Shared data helps the NHS. It has been used to find the first treatment for coronavirus and for vaccine research.
If you're happy with your confidential patient information being used for research and planning you do not need to do anything.
Any choice you make will not impact your individual care. Please click on the link below to find out more and opt out if you wish to do so.
1st Jun 2021
GP Appointments - A bit of Reality
At a time when there is a lot of media coverage to the effect that GP's aren't very busy we thought the figures in this graphic would be interesting.
Here at Guildhall Surgery we may be operating to the telephone triage system but this doesn't mean less appointments - in fact the opposite is true. We are, and have alway been, seeing patients for face-to-face appointments where necessary and overall this startegy allows us to maximise the numbers of patients we can look after.
16th May 2021
2nd Covid Vaccinations
Please note that any patient who has had their 1st Covid vaccination can now have their 2nd vaccination at 8 weeks instead of the original 12 weeks.
Invitation text messages for patients to make their appointments at the Civic Centre will be sent out but alternatively the surgery team will make a booking for you if you call us. Because the phones are currently so busy we would ask that calls regarding Covid vaccinations are made during the afternoons.
14th May 2021
NHS statement regarding Face-to-Face appointments with GP's
We have noted the many comments in the media today after the statement by NHS England in relation to face-to-face appointments with GP's and, contrary to some of those comments, GP's, including those here at Guildhall Surgery, have continued seeing patients face-to-face throughout the pandemic in line with government and public health guidance.
Our first priority is the safety of patients and staff as we have many vulnerable patients and Covid 19 is still present. The limitations of our premises, with a very small waiting room and reception area, means we will still need to limit the number of patients in the building at one time to acheive social distancing. With this in mind, we will continue to triage patients as we have been doing very successfuly throughout the pandemic thus far but always ensuring the possibility of a well organised face-to-face appointment exists where deemed necessary for patient care.
It is already a fact that the current level of face-to-face appointments results in patients having to wait outside the surgery from time to time to ensure that we acheive Covid safety within the surgery and a return to wholesale face-to-face appointments would increase Covid infection risks exponentially. Further we are actually carrying out more consultations through current precedures that we were before the pandemic.
Please be assured that our patients interests are always at the forefront of practice policies.
8th May 2021
Demonstrating your COVID-19 vaccination status when travelling abroad